Rachel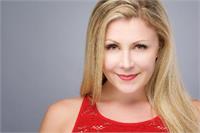 Rachel Scott: Ballet Program Director
Rachel Scott received her initial dance training at Southland Ballet Company where she studied the Vagonova method under the artistic direction of Salwa Rizkalla. During her adolescent years, she performed in full length ballets and later became a soloist with Festival Ballet Theater where she danced alongside renowned professionals such as ABT's Julie Kent. Rachel continued her dance training on a full scholarship at DeFore Dance Center, and shortly after completing her scholarship, was asked to join their Faculty as a ballet instructor. Rachel accepted, and since then, has been teaching ballet, pointe, and jazz alike for over ten years. Rachel was also one of the original members of Mike Esperanza's BARE Dance Company, and she has performed professionally in musical theatre for several years. She now teaches dance full time, and considers herself beyond blessed to share her passions with the students of South Coast Performing Arts.
Rachel instructs the following:




























There is a $25 per family registration fee. After enrolling in class, you will receive an invoice for the registration fee and 1st month's tuition. Both must be paid within 10 days of enrollment to keep the dancer's position in that class. Payments can be made online, over the phone or at the studio. If you have any questions, please don't hesitate to contact us. 714-832-8785.